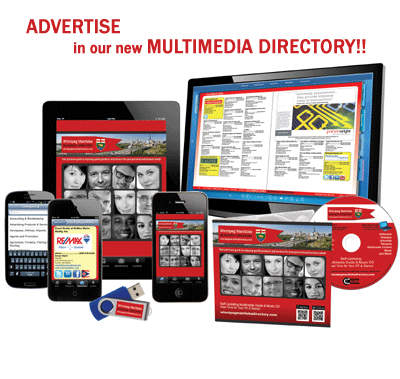 Advertise in the New Winnipeg Manitoba Business Directory
Want to reach audiences across Winnipeg and Manitoba?
The Winnipeg Manitoba Business Directory is the official business resource and guide used by consumers, business owners and their audiences at large across the Winnipeg Manitoba region.
No membership dues or initiation fees

Greater reach of your ad – enjoy unlimited reach of your marketing message beyond all confines, reaching across Winnipeg and Manitoba

Lower rates – as much as 60% lower than comparable publications
Available online, on mobile apps and on self-updating CDs & USBs, the Winnipeg Manitoba Business Directory is a dynamic, social-media enabled and searchable directory, designed to provide maximum visibility. We encourage you to use it as a connection to your next customer — and we encourage you to reciprocate by doing business with fellow Winnipeg and Manitoba companies.
The directory is distributed via our extensive network, reaching Manitoba's private sector composed of tens of thousands of employers, their hundreds of thousands of employees, and both local and non-local business people who turn to the Winnipeg Manitoba Business Directory for information about doing business in the region. The directory is also open and freely accessible to the general public, ie the 1.3 million residents of Manitoba.
Do you think this might be useful for your business? Please contact us to request our latest ad specials and guidelines – simply contact us today and we will be happy to assist.
Don't miss this opportunity for increased exposure, reach and retention of your marketing!